Start-ups are on everyone's lips: as an important engine for economic development and social progress, they not only create new jobs, but also drive technological breakthroughs and innovative business models.
They challenge established entrepreneurs and play a key role in driving modernization.
But how do these young companies attract attention, what are their distinguishing characteristics, and how are they actually financed?
Also, the question of the advantages and disadvantages of the increased market establishment of start-ups must be answered when considering financial or advisory support for such a company.

1. What is a start-up company?
According to the definition, the term "start-up" identifies a young company that develops innovative products or services, business models or technologies. Initially, in many cases, they have very low capital and negative cash flow, but this changes quite quickly and significant growth in staff and revenue is observed.
These characteristics make the significant difference compared to general entrepreneurship, which includes all forms of professional self-employment.
Differences can also be found in the corporate structures: Due to the frequent occurrence of young, open–minded employees, the company culture of start-ups is often characterized by openness, a willingness to learn, flat hierarchies and a special understanding of the external environment. The relaxed working environment and the trust between the employees are also attributes of the young companies.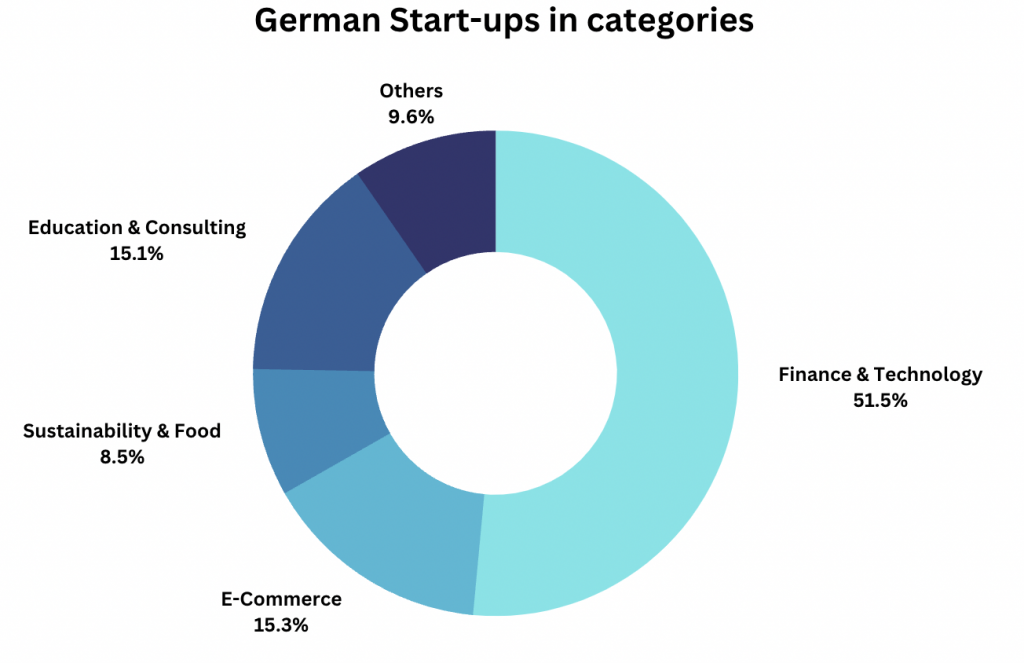 In Germany, the majority of startups fall into one of the following categories:
Finance & Technology
Online stores
Sustainability & Food
Education & Consulting
As soon as a company can report a positive cash flow, meaning more income than expenses for a longer period of time, it is no longer a start-up by definition. At this point, market establishment has progressed to the point where the break-even point is exceeded and profits are brought in.

2. What are the advantages and disadvantages of start-ups?
The above characteristics already reflect many of the advantages that come with working in startups.
Flat hierarchies, openness and the irrelevance of titles or a position of power create a relaxed working environment and trust among the stakeholders.
Often, the tasks are diverse and apply to good causes – in terms of sustainability, new technologies or education.
Innovative ideas not only provide room for creativity and initiative, but also enable the acquisition of a wide range of skills and independence. The uniqueness of the products or services makes them novelties on the market, which often even exceed the expected values of success if the business is implemented correctly.
An example is offered by the message service provider WhatsApp: Founded in 2009, the company started as an app for short status messages visible only to friends. In 2014, it was then bought by the global enterprise Facebook for 19 billion dollars and is now installed on almost every smartphone.
But there are also disadvantages to be reckoned with when founding or joining a start-up.
Since in most cases young founders are behind the business concepts, little experience, processes that can be optimized and communication that can be expanded are often to be expected. Even if innovative ideas can achieve great success, there is always the risk of misjudging one's own potential or market value.
In addition to the lack of expertise, one of the main problems is the financial risk that founders take. In order to successfully enter the market, there is often a shortage of capital, which is why investors are called in for help and support.

3. What are the options for investment and support?
As already mentioned, start-ups are characterized by their enormous growth potential, but are often dependent on the help of third parties.
Crowdfunding, which means financing a young company, not only provides founders with financial and advisory support, but investors can also benefit from it.
Decisive for a fair investment deal is the arrangement of the investment contract. This not only determines the investors' participation in the financial success of a start-up, but is also a guarantee for defined support measures in the interests of the company.
Before an investment is made, some important questions should be pursued, which can provide initial conclusions for the future. Examples are:
What is the intention behind the business model?
What experience and qualifications does the founding team have?
Does the startup have realistic chances on the market and is there an adequate target group?
Do the planned revenues correspond to a possible reality or are they far from it?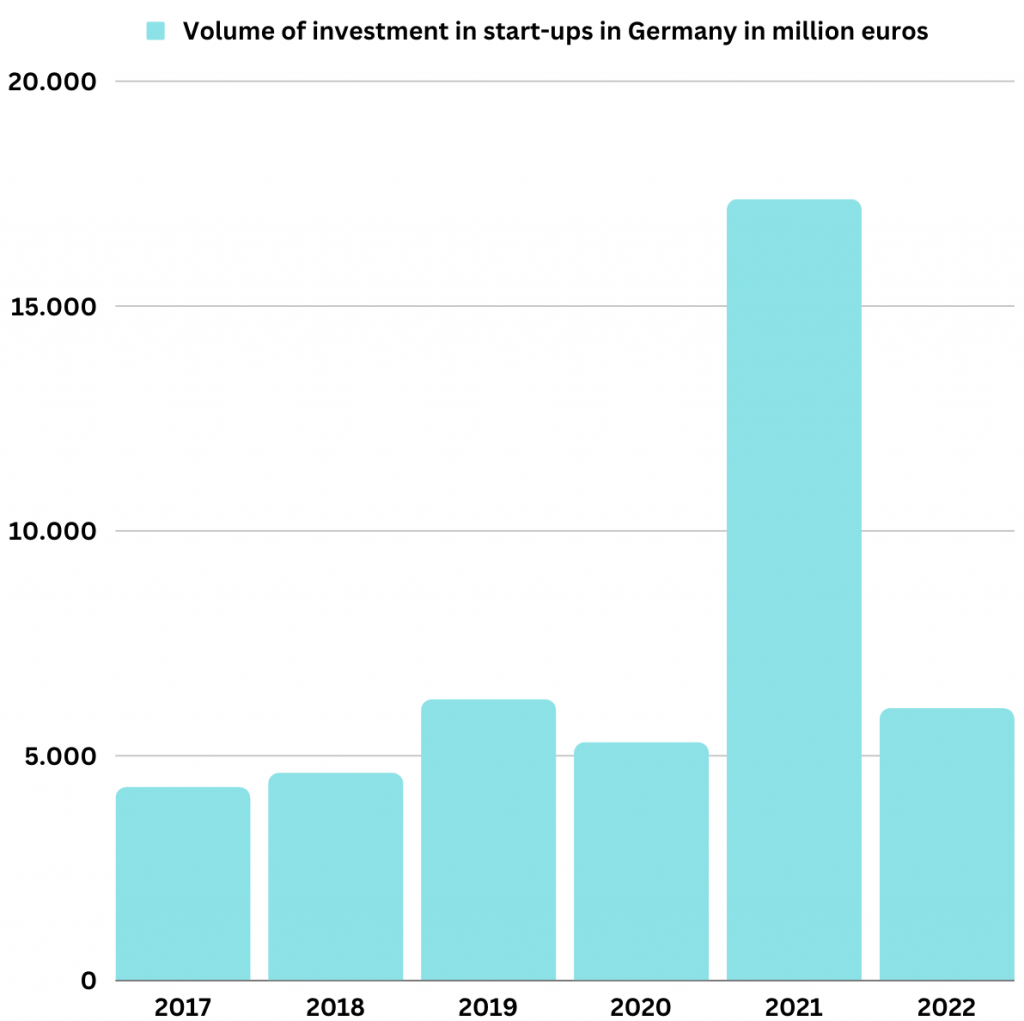 If finally the decision for an investment has been made, there are different ways to act as a potential funder. Exemplary possibilities are offered by the following methods:
First, capital can be provided as a creditor in the form of loans, which are usually repaid at a later date with the addition of comparatively high interest rates. The prerequisite in this case is that sales and profits are generated relatively quickly so as not to make it difficult to repay the loans.
As an alternative to a loan-based investment, participation as a co-owner is one way to support a start-up.
It should be noted that the invested capital usually remains tied up in the company for several years and dividends can only be expected later.
In addition to financial support, there is another enormously important aspect where start-ups often need support: Advice and know-how.
After all, expertise and information flow are the foundations of a company's economic success, and the more knowledge areas are covered, the longer positive results can last.

4. How does SailyGroup support startups?
At SailyGroup, we believe that no innovative idea should fail due to a lack of financial or advisory resources. After all, our digitalized world needs constant optimizations and creative minds that make their implementation possible.
With the help of our many years of experience, our expertise and our distinctive know-how, we provide small to medium-sized companies with advice and financial support to enable them to establish themselves in the market.
If the business model of a start-up fits our ideas and possibilities, further key criteria are evaluated and future steps are discussed. In this process, constant communication and collaboration are two of the most important aspects that should be indispensably present.
Our focus is on the scalability and profitability of young companies and their objectives, which we achieve with the support of various experts and efficient technologies. The combination of different areas of knowledge is ensured by the inclusion of different departments that have expertise in areas such as capital investments, IT, marketing or design.
We are aware of the risk of investing a lot of time, money and support, but with the right approach many goals are achievable and a successful future often depends on the necessary courage and commitment.
Feel free to take a look at the overview of our current projects.
Insights behind the scenes of our company are provided by our social media profiles on Instagram and LinkedIn.