Importance of appearance and image
When a customer enters a shop, the design team has worked hard to let that customer know in just a few seconds what the business does and what is available to purchase by creating an inviting attraction through ambiance. Likewise, companies should consider the message being sent to a client who visits the offices.
Do we want to send a corporate message? Do the offices give a hint of what the business is about? Company executives have to think not only from the point of view of the customers but also from the view of their employees too. It's important to consider how the employees feel about the surroundings. Is the work space designed showing them that they are important? Is the space beneficial to productivity and good work skills?
The importance of a positive office environment raised over the last decade and it is scientifically proven that having a constructive work environment can actually improve productivity, make employees happier and more confident. So yes, employee's feelings and feedback are some of the aspects that companies should focus to improve and to optimise their performances.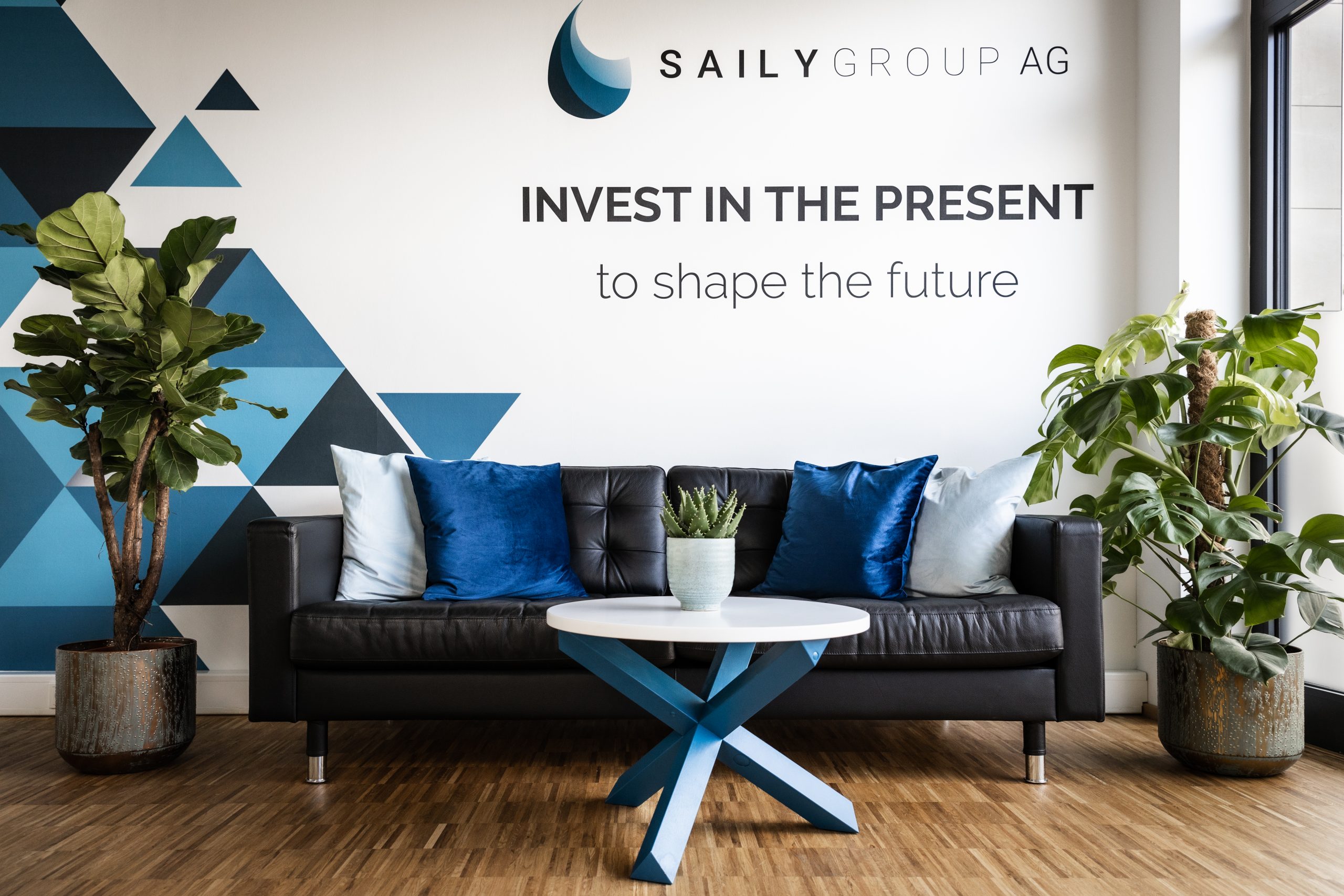 How we fit-out our office spaces
When we undertook our offices fit-out this year, we wanted to look at that project like an opportunity for a positive business change.
We wanted to find a great way to impress our clients and enhance employee job satisfaction by implementing flexibility and an intelligent approach to the workspace. Let's see what things we have focused on and put effort to create a great working atmosphere.
DESIGN AND BRANDING
First of all, a good office design can support and strengthen the company in many ways. From increasing the productivity levels and boosting performance to building the business brand and core values. An office should reflect the nature of the business you run and in our case SailyGroup runs a wide range of businesses in different sectors, so we wanted to incorporate all these values and create a unique image and brand of SailyGroup.
If we look at the office spaces, as backdrop we used the colours from our corporate identity, hues of blue, white and black. We alternated with customised wallpapers to add a touch of creativity, which is at the base of our businesses.
Then we incorporated natural materials such as wood in our furniture, customised space dividers and phone booths. We made this to underline our bond with nature and the desire to bring it in our lifestyle, which is actually also the idea behind our product Kaima.
Another aspect that we have incorporated in our office design is the technology since the IT sector has huge relevance in the SailyGroup company.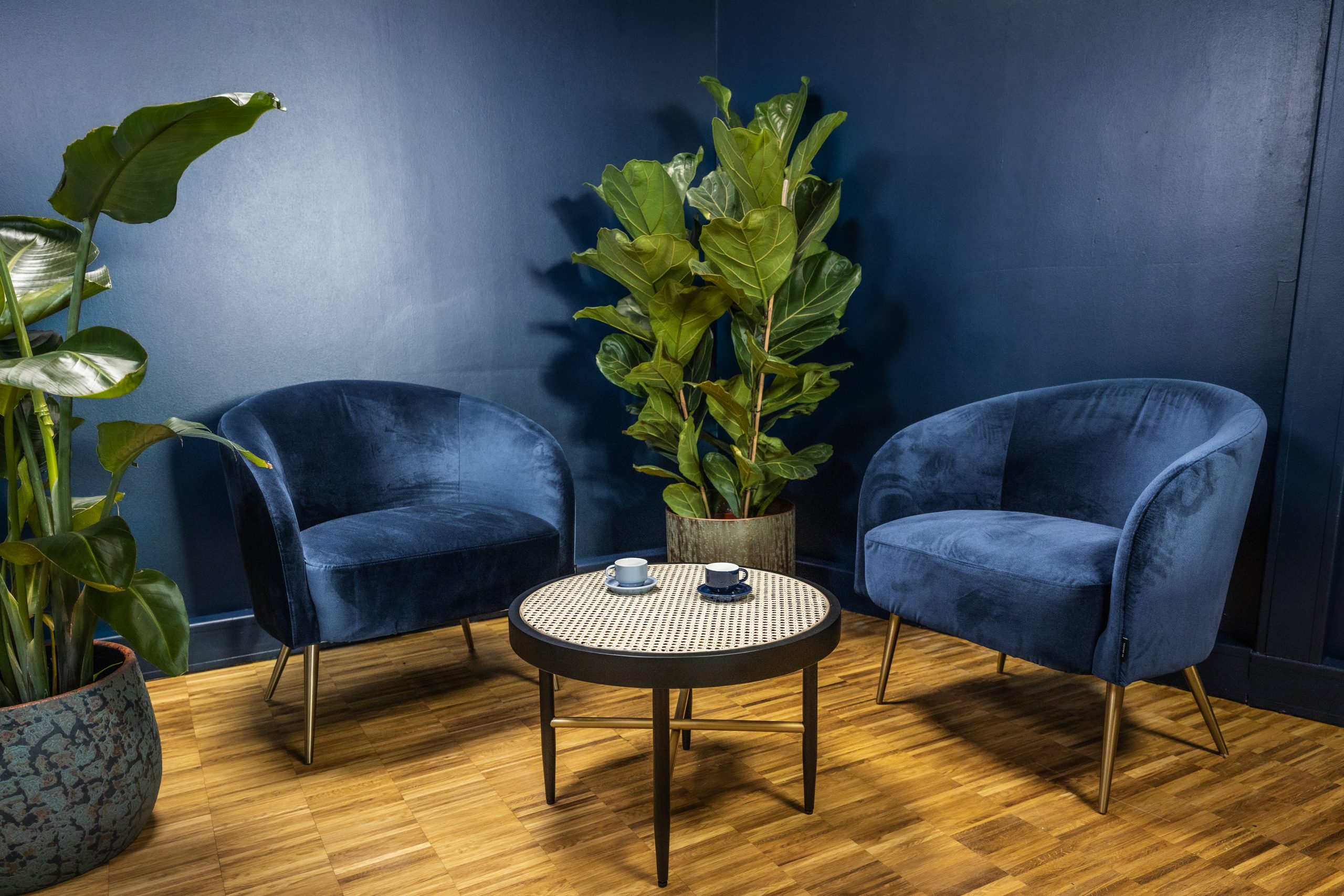 INTELLIGENT AND DYNAMIC WORKSPACES
A productive workspace has to be intelligently designed to help the employees do their best work. Promoting creativity, collaboration and focussed working with an intelligent office design was our task.
So we opted for an open and collaborative working space to engage employees and providing them with a work environment that supports creativity, fun energy, conversations, team work and a place where co-workers can share knowledge, think and reflect.
These work-islands remove barriers and make everyone approachable, so it's really easy to improve communication, exchange ideas and mingle. It's also easier for management to supervise all employees in a wall free space than in closed cabins.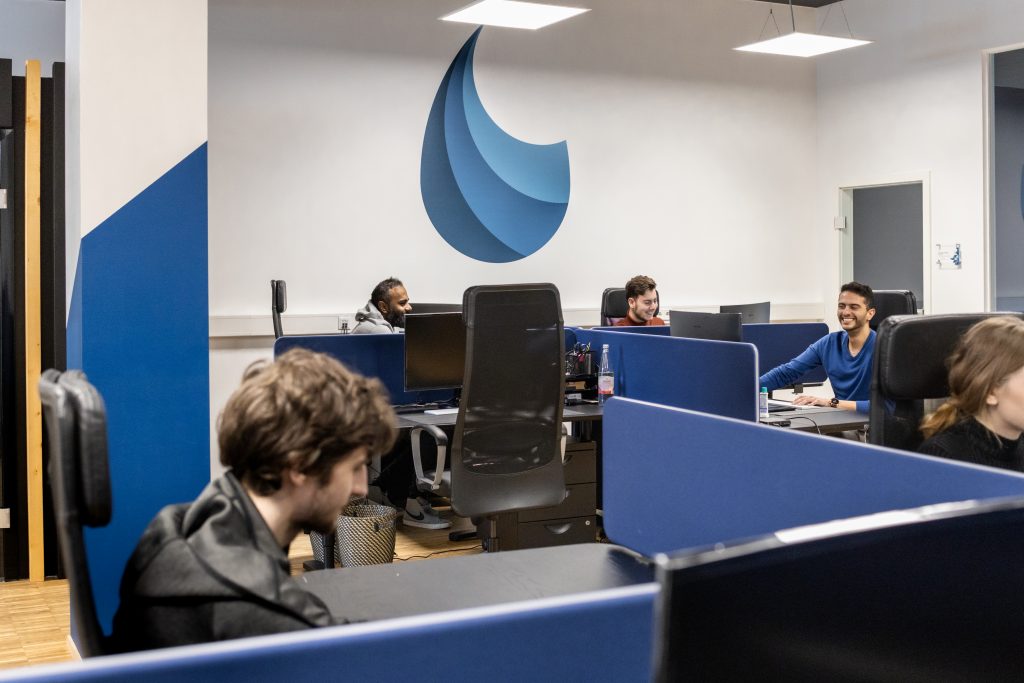 WORK ZONES SUITED TO TASKS
Within any intelligently designed office space there will be a collection of spaces that facilitate the range of activities that are performed by the workforce. For these particular purposes we have designed specific areas that can support and suit the tasks.
By installing customised soundproof phone booths we found a great solution for creating private zones for high-concentration tasks to employees in companies like ours with open floor plans. Each booth is furnished with built-in desk and allow employees to make private calls or join video meetings without having any background noise.
This is a great way to keep employees comfortable when they need a place to work without any distractions. It will lower stress for those who want to get away from their desk pod in the open office floor plan. It creates a space that helps people feel like they have privacy when they need it.
On the other side we created spaces to relax in or work away from desks, that could also improve productivity. These areas can be used as a multi-use space throughout the day, from relaxing at lunch time to holding informal client meetings, team catch-ups and presentations.
Offering employees spaces to work or relax away from their desks can help wellbeing issues from eyestrain to backache, as well as relieving stress.
Without flexible spaces to work in, it will be harder for the team to collaborate, share skills and knowledge or simply 'recharge' before taking on their next task. All of which can improve productivity and creativity levels.
And obviously cannot miss a proper conference room, designated as a place to hold meetings. Its environment is the backdrop for meetings and everything from light and seating, to the room's layout can affect the mood and the productivity level. So we considered all these aspects and created a pleasant and work-friendly space with comfortable chairs, plenty of light and technological tools to adapt to the use.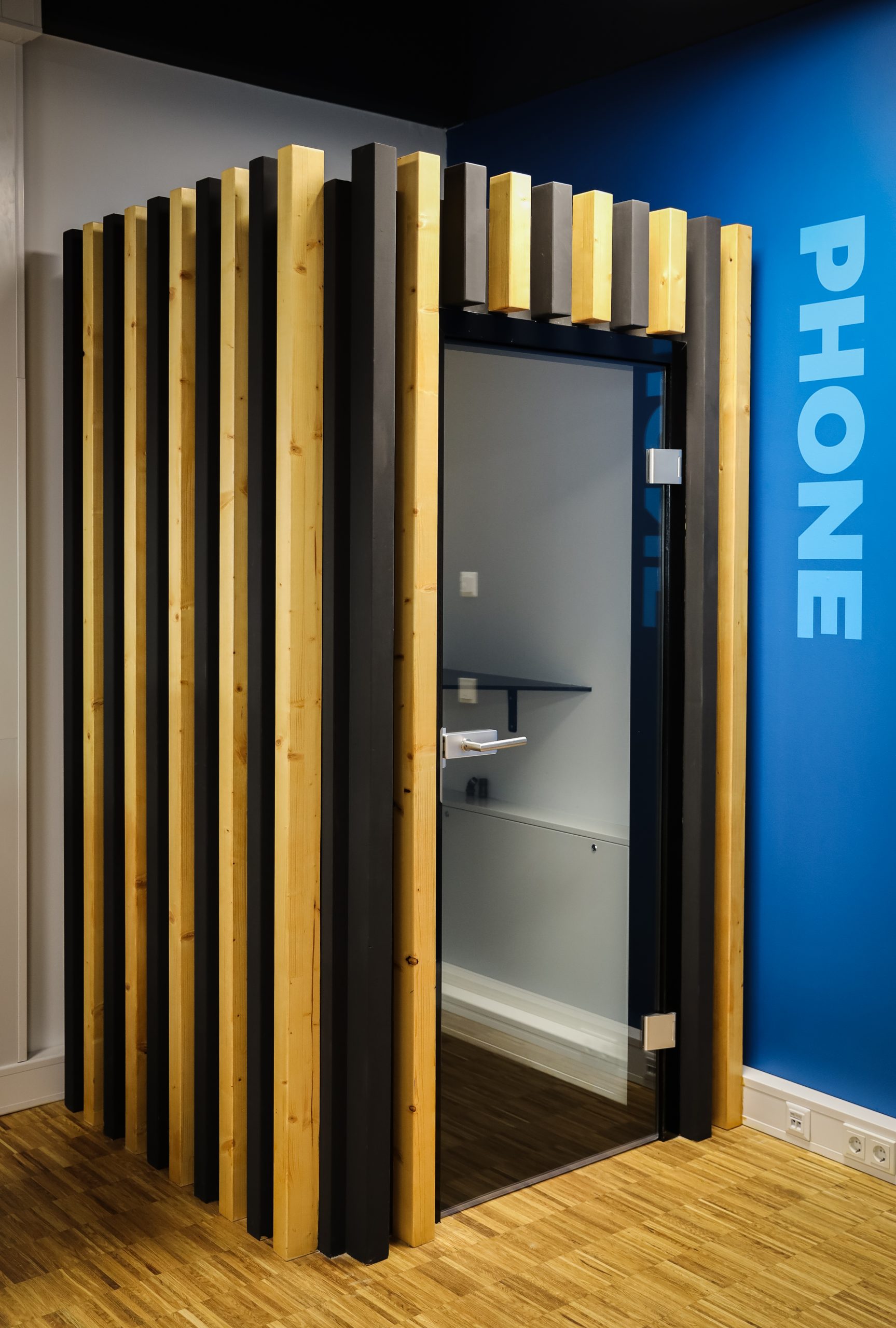 UP TO DATE TECHNOLOGY
As design also technological efficiency of offices could affect the output of the employees, therefore, integration of modern updated equipment such as wide visual screen to follow live developments of each team, touch screens in the entry hall to show our companies works and products, effective communication tools, electronic white boards, app controlled smart door openers and air purifiers have definitely boosted the production and improved work performances.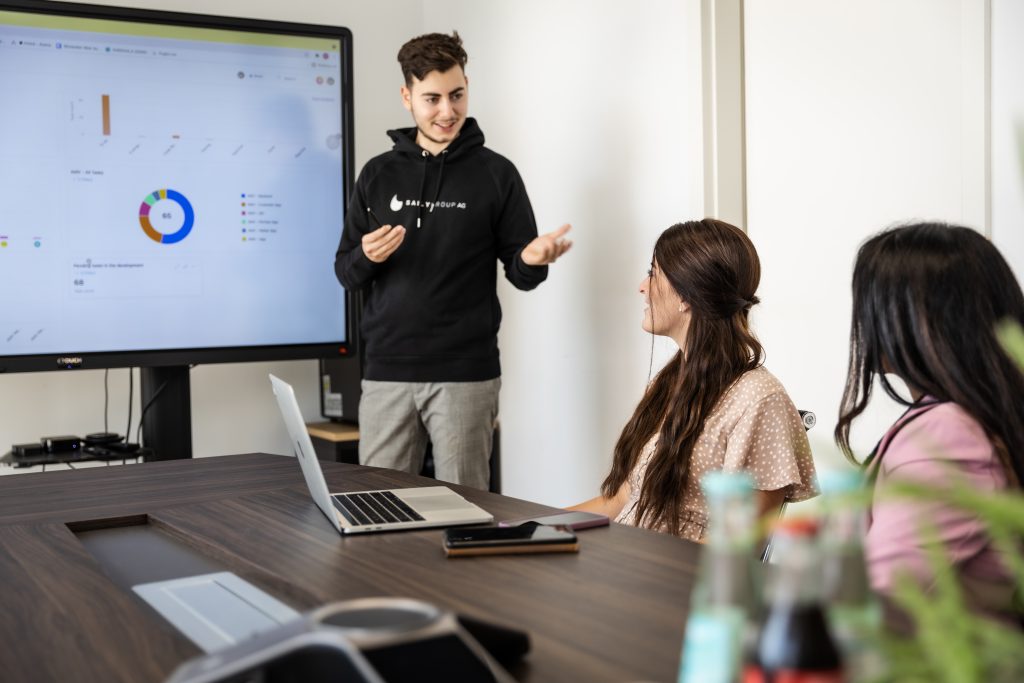 COMFORTABLE AND ERGONOMIC FURNITURE
The furniture in an office space is more important than we might think. The welfare of our employees is greatly impacted by the furniture we offer. So we have chosen office equipment that will keep our employees comfortable and healthy.
Updating furnishings and bringing them in line with the company's brand is an important step to achieve a homogeneous image and environment.
BIOPHILIA – AFFINITY FOR NATURE
Having more greenery in office is becoming a growing phenomenon and studies say that just one plant per workspace can provide a very large lift to staff spirits, and so promote wellbeing and performance.
There are many positive effects on having more indoor plants in an office place like helping to reduce stress, increasing productivity, cleaning the air and boosting creativity.
Furthermore they make workspaces more attractive to job applicants, which can definitely affect their decision to join the company.
If you are working in an environment where there's something to get you psychologically engaged you are obviously happier and you work better.
As we have already said above, for SailyGroup bringing nature inside its world is a priority kind of thing, so we believe we did quite a good job with all our green plants around our workspaces.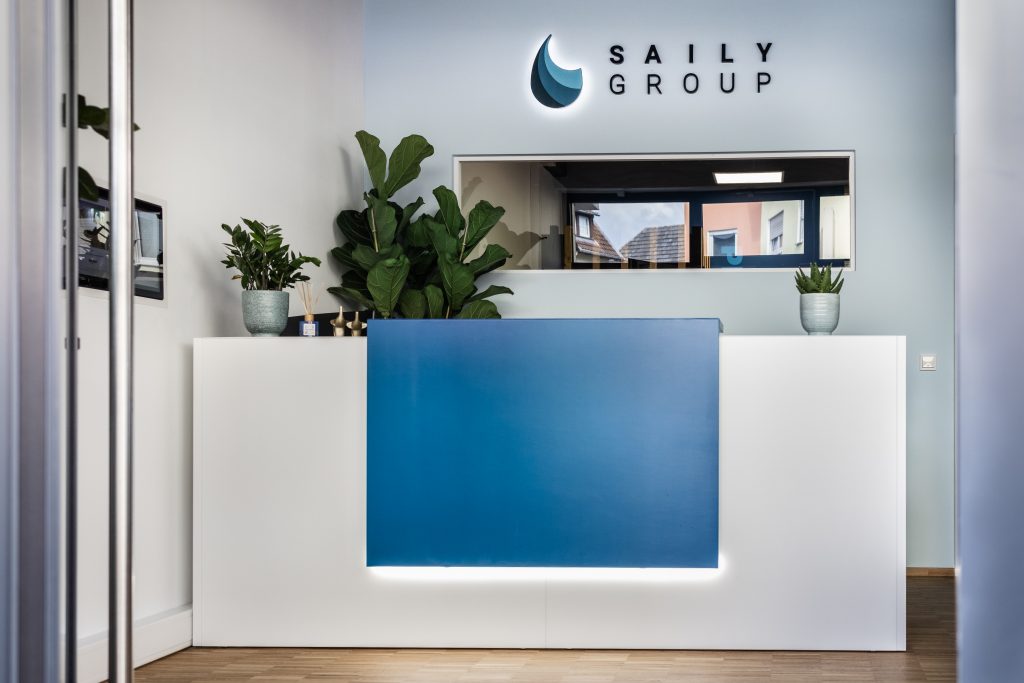 GOOD COFFEE
It goes without saying that an office can't be great without good coffee. So good coffee is therefore a necessity, and offering it shows that you care about your staff's well-being and appreciate all the hard work they're doing.
By providing them with a refreshing drink, it gives them time to take a break, recharge and start the next task feeling like they can take on the world.
We all know how long and stressful a day at work can be so sitting with a good coffee can be a chance to get away from daily workplace stress, helping staff to cope, relax and build their energy. Happy workers are productive workers after all.
So we arranged a kitchen corner with coffee machine (also a tea maker for tea lovers) for an early morning pick-me-up, delicious breaks and definitely for a mood booster as well. Never underestimate the power of coffee, that's clearly powerful stuff.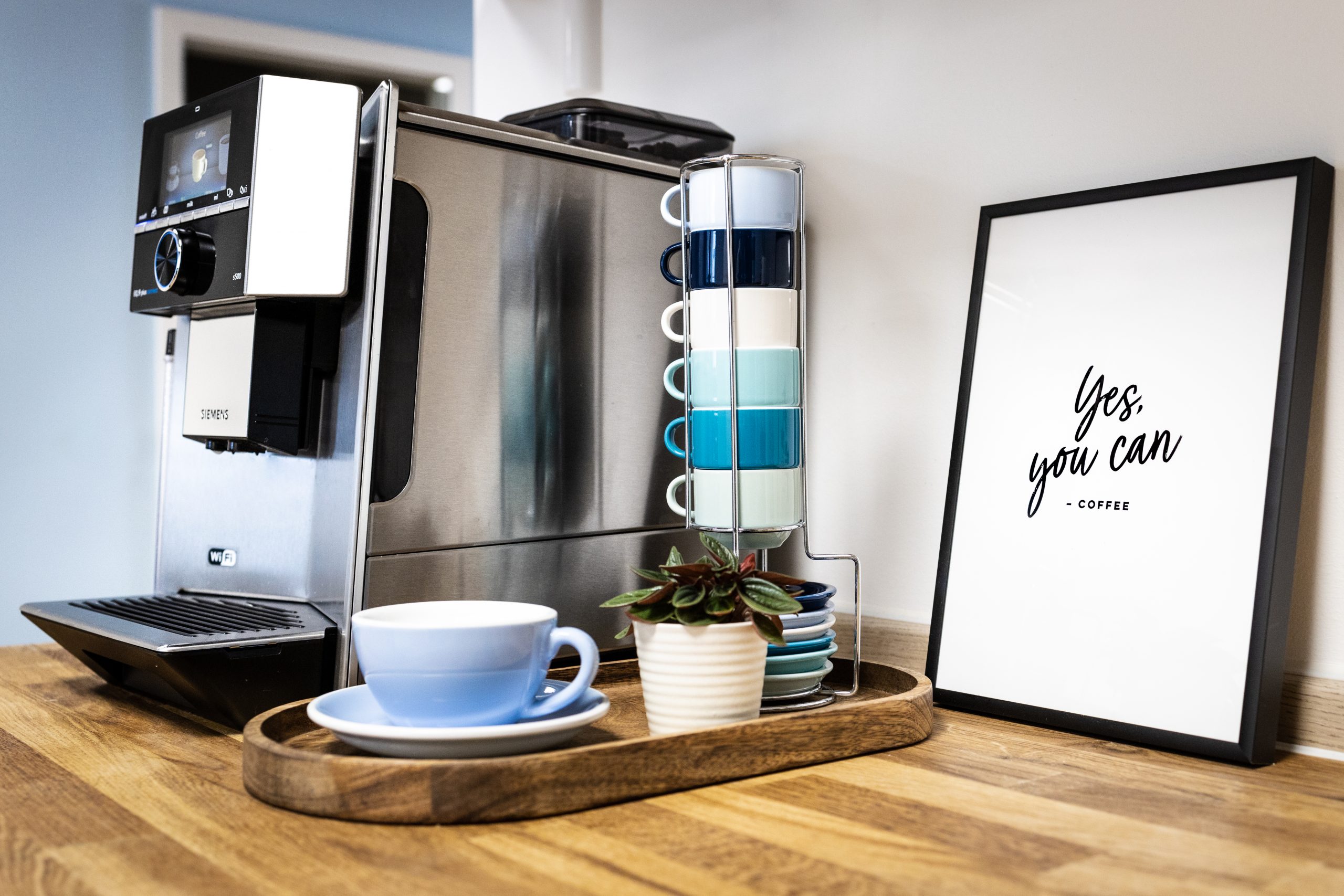 GREAT PEOPLE
Last but not least, smart people and a strong team spirit are fundamental for a great office environment and we are proud to say we have fully achieved that goal and we are more and more exited to expand our SailyGroup family with wonderful people.
INSPIRE AND GET INSPIRED
During this process of fitting out our office spaces we get inspired from so many ideas and works. After putting together those inspirations with our creativity, values and uniqueness, we believe we have achieved a position to inspire others and let them take the step to change and shape their environment to better their future.